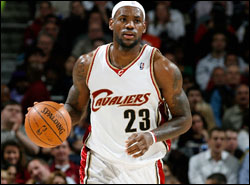 LeBron James is not going to be a New York Knick next season. There, I said it. Everybody knows it — if his legacy is about winning titles you don't move to a roster that takes you a step back from that goal.
But when did reality ever get in the way of some good speculation? That brings us to the New York Post and the worldwide leader…
ESPN NBA analyst Ric Bucher quoted a league source yesterday when he said that LeBron James might be more interested in coming to the Knicks if they have Hawks' shooting guard Joe Johnson.

"If it's LeBron James they want," Bucher said, "a league source says the Hawks' shooting guard is a very good place to start."
Johnson is going to be one of the big gambles of the summer — he is a top player but if he gets a five-year deal teams could regret the last couple years of it (he turns 29 next season). Still, the Knicks are reported to be interested, as Johnson thrived before in Mike D'Antoni's system.
But that is a long, long way from luring LeBron to come to New York. LeBron would have to take less money to come to the Big Apple ($30 million is still a lot of money to me), so they would have to offer a lot more than Joe Johnson to entice him. Sorry, I didn't mean to keep interjecting reality into this daydream. I'll stop now.