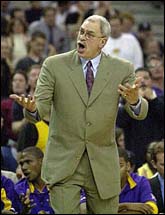 During his pregame meeting with the press, there was plenty of talk comparing the Lakers organization and its history of success, and what they are trying to build in Minnesota (with former Lakers assistant and still legend Kurt Rambis).
Ownership is at the heart of that, and Phil Jackson was candid in a monologue about what he thinks set Jerry Buss apart from other owners.
"He's a gambler," Jackson said. "He knows the odds, he knows when to take the risks. I think he carries that sense of this is a risk/reward type of game, and what are the rewards with the risk I've thrown out there in each situation.
"This year he took the big risk and brought Lamar (Odom) back, so we could get back to where we are the championship, that we could have a shot at that championship again. But that was a big pill to chew for an organization that has never lost money in the however many years he has owned the team, 30 years (31, actually). I know that was something he had to convince himself of. I had to convince him of, and stay after it that it was imperative for us to stay with this crew, this group of guys.
"I think Jerry was very close to his teams in the '80s, the Showtime teams," Jackson continued. "And I think he learned something from that. He learned that you can be friends with these guys, but time passes, a generation passes. There's some heartache involved in that. There's some pain involved in it the closer you get to the guys.
"I think he admires this team, I think he likes his athletes. He has an ability to stay removed and yet attached to them."
It should be added that while Buss gambled and brought Odom back, he also gambled with Odom, calling his bluff, and betting he would play in Los Angeles for less than he was offered elsewhere. Buss won that bet, too.