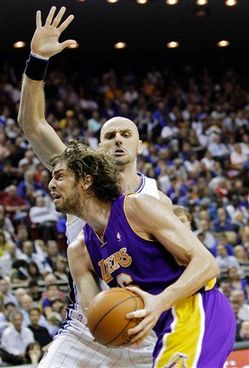 Getting the paparazzi to follow you around in Los Angeles is about as hard as attracting pigeons at a park with a loaf of bread.
Pau Gasol — not exactly known as one of the beautiful people in Los Angeles — has the right bread now with a glamorous Spanish girlfriend. So the Spanish media is on his tail… and it freaked him out, according to the story at the Los Angeles Times.
Gasol, a Redondo Beach resident, called a Lakers security official and was told to drive to the police department, where he provided a description of the car that was following him. Officers found the car parked nearby and questioned its two inhabitants, who were Spanish (credentialed media). They provided the kicker to the story.

"The shot of him alone was not what they were looking for," Keenan said. "What they were looking for were shots with him and his girlfriend."
Gasol's girlfriend is famous in Spain, having made it to the final cut of a reality show called Circus — basically an American Idol looking for a circus performer — that was a huge hit in their native land. I have no idea why, as I can't sit through a circus with the people that made it, let alone wannabes. But whatever. Famous people ballroom dancing is huge here, we are in no position to mock Spain on this one.
Famous athlete, hot reality television show star couple living together near the sand in Los Angeles — that will attract some pigeon paparazzi. But I still can't see Gasol as one of LA's glamour people. At least not until he does something that lands him on TMZ.