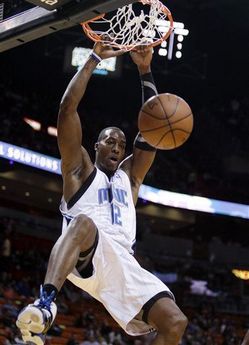 What you missed while watching your bracket go up in smoke…
Magic 108, Heat 102 (OT): If you were like roughly two-thirds of the people watching this game — flipping back and forth between it and the entertaining Washington/Marquette NCAA game — you felt lost. Each time you flipped back it felt like a new game.
The first half was fairly even, in large part because Jermaine O'Neal continues to by Kryptonite for Dwight Howard. O'Neal always wins that battle. We have no idea why either. Throw in some very flat Orlando defense and the usual dose of Dwyane Wade and you have a halftime tie.
The third quarter and the first seven minutes of the fourth were more what we all expected. Jameer Nelson woke up and penetrated, Orlando won the battle in the paint and even Rashard Lewis was draining shots. Orlando was in control.
Then with five minutes left and up 12, Orlando stopped playing. Their defense was non-existent and Miami scored on 8 of their last 11 trips down the court. Meanwhile Miami played its best perimeter defense in part because O'Neal was doing such a good job on Howard they didn't need to double, and guys stayed with perimeter shooters. And even when Orlando got a good look, they missed. That opened the door, and like it was an NCAA game it was off to overtime.
Lewis scored seven points in overtime, including a dagger three from the left corner. It was a sign of how tired the Hornets were that  he was wide open — top of the Magic scouting report is don't give Rashard Lewis open looks from the corner. He's 43.8 percent from where he hit that shot. (Lewis is shooting a higher percentage from the right corner than he does at the rim.) Add in a healthy dose of Vince Carter and the Magic pull it out. You don't knock road wins, but that was harder than it needed to be.
Nuggets 93, Hornets 80: It is the worst back-to-back in the NBA — West Coast one night, then fly to the altitude of Denver the next night. Even the Nuggets lost the three times they did this last season. It's a schedule-makers loss. This one live up to the billing. The game felt like it was over by the time TNT switched over — Denver just dominated early. They had 62 first half points by, 34 of those came in the paint, and they grabbed offensive boards on 48 percent of missed shots. Denver led by 25 at the half.
Denver just went through the motions in the second half, and the Hornets tried, but they didn't have the talent and fresh legs to pull it off.