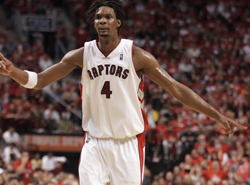 As it has been with LeBron James and Dwyane Wade, so let it begin with Chris Bosh.
Let the reading of tea leaves in everything he does commence, let even his smallest action be over-analyzed. Starting with his reaction while running back to play defense after scoring the 10,000th point of his career. From the Toronto Star:
Alert observers noted that Bosh, stone-faced, didn't so much as acknowledge the appreciative throng (which gave him a big ovation).

He didn't raise a hand in return of the love.

He didn't offer a knowing nod.

And wasn't that as good as waving goodbye?
Really? Ugh. I am dreading the next four months of speculation on this.
You know tealeaves arrange themselves in the bottom of a cup when you're done drinking? Randomly. Swirl them around three times while thinking of a question, and they are still random. There is no meaning there. But in the absence of more concrete information, human beings make crap up. Like that there is meaning in tealeaves in the bottom of a cup.
Or that what Bosh does while running back on defense tells you anything about July 1. We have no idea what Chris Bosh will do this summer. Good bet that Chris Bosh does not know what Chris Bosh is going to do. I'm sure he had thought about it, but the future is never set in stone. Or tea leaves. Or hand gestures on the court.