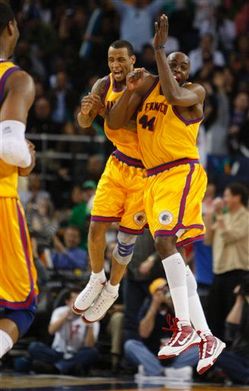 Don Nelson threw a D-League team out on an NBA floor Wednesday night. Almost literally. Anthony Tolliver was playing in Idaho in January. Reggie Williams was playing for Sioux Falls last month. Chris Hunter was playing for Fort Wayne when the season started.
Three guys who were sharing hotel rooms, flying in coach, carrying all their own gear and trying to impress in the D-League this season.
Three guys beat the New Orleans Hornets Wednesday night.
The trio combined for 69 points on 66 percent shooting — 8 of 14 from three — leading Golden State to a 131-121 upset of New Orleans. They helped spark Golden State's dramatic comeback from 21 down in the third to get that win.
It would be easy to rip the Hornets "defense," which was downright bad. Without Chris Paul and Peja Stojakovic, plus Emeka Okafor playing limited minutes, New Orleans is not going to be confused with a good NBA team. But give the D-Leaguers some credit, they battled. They earned this.
Tolliver had 30 points in his role as the starting center (even though at 6'9″ he's no NBA center, he's more of a combo forward). He showed off his athleticism all night and the man can attack the rim (and dunk).
Chris Hunter is a real center at 6'11" and during the comeback he took charge in the paint (something that likely confused Warriors fans at first as they had not seen someone dominate the paint in a long time, it's not in Nelson's playbook). He was grabbing offensive boards and getting tip ins. Reggie Williams was just draining threes (4 of 6) whether there was a guy contesting the shot or not. He seems unphased by hands in his face.
Golden State has more success with D-League call-ups than any other team in the league. Likely because of Nelson's open system. But the Tolliver/Hunter/Williams trio was moving the ball — and moving without the ball — in a way the Warriors starters never did. The D-League guys were playing right, making the extra pass, finding the open man.
A 21-point comeback in an NBA game is huge. As is scoring 30 like Tolliver did. Don't care who is defending you (or not defending, as the case may be). You've got to earn it at this level.
These three earned it.