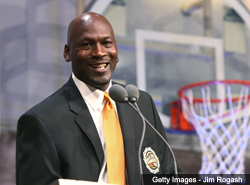 Even those not familiar with advance stats have been quick to notice how Michael Jordan has flourished over the years with OPM.
Now, with Wednesday's ownership approval from the NBA's Board of Governors, that figures to change.
Jordan's success with other people's money, be it Jerry Reinsdorf's, Abe Pollin's or even Bob Johnson's, no longer is at play.
And the reality that he was able to get controlling interest in the Bobcats at a mere fraction of what Johnson paid for the expansion team in 2003 says this isn't a franchise exactly flush in cash, but rather one hemorrhaging dollars.
So, what will it be from M.J.?
Jordan's college roommate at North Carolina, current Appalachian State coach Buzz Peterson, offered one clue.
"I'm happy for him," Peterson said. "I know it's something he wanted."
Yet even Peterson was quick to note that it only is a matter of time before Jordan limits his financial exposure.
"He won't change, though," Peterson mused. "Going through the McDonald's line, he still won't pay for it. That won't change. He's always tight."
Jordan has been a minority investor, with complete oversight of basketball operations, since June 2006.
That's when he was dealing mostly with OPM. But even then, he said he did not see a need for the franchise to operate in the luxury tax.
That could make coming months particularly intriguing, with the Bobcats already at roughly $60 million in committed salary for next season and the 2010-11 luxury tax anticipated by one general manager to fall in the $65 million range.
So will there be a competitive offer to Raymond Felton in free agency?
Will Tyrus Thomas, another impending free agent, prove little more than a short-term rental?
And what happens when Larry Brown expresses his unceasing affection for Larry Hughes in coming weeks, let alone for another free agent he positively must have this summer?
Creative management when it comes to the 2010-11 contracts of DeSagana Diop and Nazr Mohammed could allow for fiscally responsible growth.
But in a league where money means everything to one (Donald T. Sterling), not so much to some (Mark Cuban) and seemingly not very much to others (step on down Mikhail Prokhorov), it will be interesting to see how reformed Jordan grows with one particular metric now out of his operational means.
Suddenly, for M.J., OPM no longer factors into the equation.
Ira Winderman writes regularly for NBCSports.com and covers the Heat and the NBA for the South Florida Sun-Sentinel.