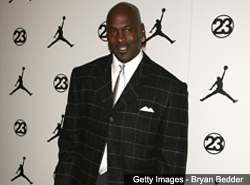 It was a done deal — he has been sitting on the end of the bench annoying his team now for a couple weeks — but there had to be a formal vote that approved Michael Jordan as the owner of the Bobcats.
How did you think that vote was going to go? Of course, no coronation like this is complete without a canned, meaningless comment from the commissioner in a press release.
"We are pleased that Michael Jordan's purchase of majority ownership of the
Bobcats was approved by the NBA's Board of Governors and closed in such a smooth and expeditious fashion," said NBA Commissioner David Stern. "We look forward to the continued growth of the Bobcats, on and off the court, under his leadership."
Now it feels official.