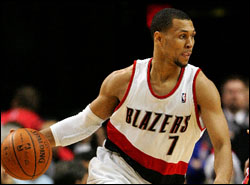 Larry Bird, killer. Michael Jordan, killer. Kobe Bryant, killer.
Brandon Roy… meh.
At least it was that way, until Roy took a hard look at himself after a recent Portland loss to Denver and told Yahoo's Mark Spears things had to change.
I look back at [Michael] Jordan, and Kobe recently. Those guys try to dominate. You look at big men like Shaq, they dominate," Roy said. "It was an edge. I got to get that edge. Even when I play against Carmelo and those guys, they play with that edge. They want to bury you. I'm thinking, 'I got to get that edge.' "

Roy has averaged 27 points on 57 percent shooting in the four games since the Blazers fell to Denver. The Blazers won all four games.
Lessons are learned the hard way in an unforgiving NBA. This was the season the Trail Blazers were supposed to vault into the NBA elite, to threaten the hated Lakers (an few places hate them like Portland), to take the next step. But due to injuries and more, the Blazers have taken a step back.
A lot of teams never recover from that step back, the players fold (or management panics and makes ill-advised trades). Roy is not letting that happen in Portland. Or at least starting to, consistency is the challenge. Kobe brings it every night. Roy has help, the front office brought in Marcus Camby to fill in for the host of injured centers. Roy has tried to put this team on his back.
And it is working. Right now, you can be sure the Lakers want no part of Killer Roy and his team in the first round.