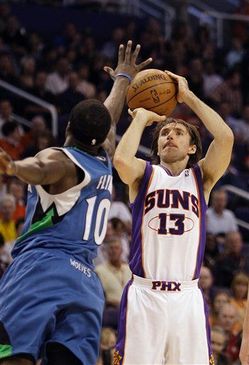 What you missed while noticing Lady Gaga looks like Gozer the Gozerian…
Suns 152, Timberwolves 114: Yes, you see that score correctly, it was play-like-it-was-1982 flashback night in Phoenix. And yes, that would be a new high water mark for scoring this season, thank you very much.
The Suns had a redonkulous 150 offensive rating (points per 100 possessions). The game had 101 possessions, by the way. The Suns shot 48% from three. They grabbed 40% of the shots they did miss with an offensive board, so they could get another chance. Minny did not play good defense — duh! — but it just snowballed on them. Phoenix could not miss. Steve Nash gets to rest his back and Goran Dragic comes in and looks like he's been learning at the foot of the master.
Bottom line, if Louis Amundson shoots 10 of 13 from the field against you, you are doomed. When the Suns offense gets going though, it is fun to watch.
Cavaliers113, Pistons 101: Cleveland beats who it is supposed to beat — the last time Cleveland lost to a team under .500 was Nov. 18 (stat courtesy Brian Windhorst and @realcavsfan). They are not all going to be pretty — Tuesday's certainly wasn't — but the NBA does not award style points, so who cares?
This game was tied 91-91 with just more than five minutes left, then the Cavaliers took control. That is what good teams do some nights — dominate enough for a key stretch to win. Take the win and move on. Mo Williams has three late threes in that stretch. Oh, and LeBron had another triple double. Ho hum.
Spurs 88, Heat 76: The second half of this game bordered on unwatchable. San Antonio scored 33 second half points and won by 12 (and it wasn't that close). San Antonio had an offensive rating of 95 (points per 100 possessions), which is four points worse than the Nets on the season. And the Spurs still controlled the game. That is really about just how bad Miami was, especially early — they shot 23 percent for most of the first half. And that was the watchable half of this game. All we learned from this — the seven seed in the West is a lot better than the seven seed in the East. But we knew that already, didn't we?
Hawks 108, Nets 84: Both teams were shooting poorly to start this one, then Jamal Crawford came in and started lighting the board up. The Hawks have guys that can do that, come in and just change a game. Crawford had 16 in the first half, finished with 25 on 11 of 18. Who do the Nets have? Josh Boone having a big night (13 points, 20 boards). It's not the same.
Pacers 99, Bobcats 94: Recently the Bobcats have beaten the Lakers, Celtics and Cavaliers, but they can't beat the Pacers? And they lost to New Jersey. Have fun figuring this team out, MJ.
Grizzlies 104, Bulls 97: Memphis tried to give this one away. Really tried. After a tight first quarter the Grizzlies — playing without the younger Gasol — started dominating inside and grabbing tons of offensive rebounds. In the second and third quarters Memphis outscored Chicago by 19. They led by 23, and then they started turning the ball over and that led to a fall all the way to four.  Memphis held on, but guys should have been putting ice on their knees early, not coming in to secure a win.
Recent D-League call up (and number two pick overall) Hasheem Thabeet got the start and acquitted himself well — 10 points, nine boards and a couple of blocks.
Nuggets 97, Wizards 87: George Karl was back on the bench, that was the best thing about this game. Aside that, just professional, solid home win for the Nuggets. The only down side is Chauncey Billups streak of 36 straight games with a made three came to and end (he was 0-6).
Lakers 106, Kings 99: First, your Tyreke Evans moment of the night — in the first quarter he put a spin move on Ron Artest that made one of the best defenders in the league look like a statue. It is just fun to watch Evans.
The Lakers looked a lot better in the fourth quarter of this one — the second night of the back-to-back — than they did against Golden State Monday. All night long they got the ball inside, where their advantage always is. Crisp passing on the perimeter, better decision making, the entire team involved so it was not just The Kobe Show. Sacramento played well, they played with energy, this was no gimme win for LA. They earned it.