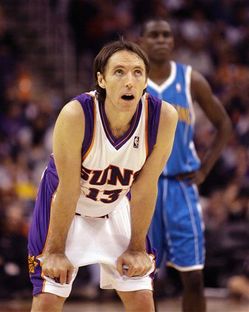 From a young age, every basketball player is told to get comfortable using their off hand around the basket and on drives, but few players master the skill. Even at the NBA level, the vast majority of players have a dominant hand that they would prefer to drive to, and most of them are good enough to get away with it. After his crossover was done, AI would usually end up driving to his right. Dirk Nowitzki and Sam Cassell love/loved driving to their left to set up their mid-range jumper. Mega-prospect John Wall shoots righty, but favors going left on drives and finishes. 
However, there are some guys who have put in the time and are just as comfortable with their bad hands as they are with their dominant ones. As former player
Charles Shackleford
would have put it, these guys are almost completely amphibious. Again, this list is in no particular order:
1. Steve Nash 
Despite the fact he's not particularly fast or tall, and certainly can't jump very high, defenses have always had trouble keeping Steve Nash from getting into the paint and making layups. A large part of that is because Nash is just as comfortable using his left as he is using his right. Nash can confidently dribble with his left hand, make passes with his left, and can use either hand for one of his signature shots around the basket, a one-handed finger roll that Nash gets off without ever having to gather the ball. Because of how unpredictable Nash is around the basket, he shoots a LeBron-like 71.5% on shots at the rim. 
2. Kobe Bryant
Spoiler alert: If I were to make more of these lists, Nash and Kobe would be on a lot of them. Bryant is equally likely to drive lefty as he is to drive to the right, and no perimeter player has more range or touch with his off-hand than Kobe. Kobe's left helps him both on drives and in the post, where he's light years ahead of any other perimeter player. Kobe has been in a contest with teammate Pau Gasol to see who can make the most lefty baskets this season — according to Kobe, Bryant is winning easily. 
3. David Lee
Lee is naturally left-handed, but broke his arm at a young age and learned to become completely ambidextrous. Lee has expanded his perimeter game for the Knicks this season, but his bread-and-butter will always be his ability to get baskets in the paint using either hand.
4. LeBron James
James does everything but play basketball left-handed, and he's pretty good with his left on the court as well. James is actually slightly more likely to drive to the left in isolation situations, and he finishes strong with his left at the basket as well as anybody — it's not easy to make 75% of your shots at the rim, no matter how athletic you are. James is also capable of making great passes with his left hand, and his ability to block shots with his left has made some of his more spectacular chase-down blocks possible. Now, if he could just add a lefty hook over his right shoulder in the post…
5. Carlos Boozer
Growing up in Alaska, Boozer developed his left hand when he lost one of his mittens at the beginning of one winter and was forced to shoot baskets with his left hand throughout the winter months so that he could keep his dominant hand warm. Okay, I made that up. However it happened, Boozer is excellent at using his left hand around the basket, and that ability helps him get tons of buckets around the rim from odd angles.