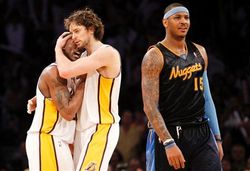 It gets played this way sometimes on the national stage — Kobe Bryant and Pau Gasol are battling each other for the soul of the Lakers. An epic struggle between light and darkness, like something out of Harry Potter and the Secret of the Triangle.
Except it's not like that at all, says the Orange County Register's Kevin Ding.
Bryant and Gasol still have a really good relationship – which I emphasized in a column less than a week before that Memphis game – and Bryant's respect for Gasol's basketball acumen is the reason why Gasol feels he can speak freely…

As Bryant has often noted, Gasol is really smart – in the traditional definition. That means everything is analyzed and dealt with logically, which is why Gasol shot 4 for 8 on free throws in the first half Monday night and walked straight from the locker room to the foul line at halftime to review that stroke.

When you're a logician, you don't mind letting someone else be the magician … but you believe unfailingly that logic trumps magic. The beauty of it for the Lakers is that Bryant believes that, too – especially when it comes to postseason play.
The article details how Bryant and Gasol are on the same page, and how their mutual respect allows them to say things to one another through the media without taking offense. Their relationship has room for that.
But don't let this lead you to believe that everything is fine with the Lakers offense – it is not. The push and pull is still there. The Lakers run less of the triangle than they have in years and what they do run are more basic sets because Ron Artest is not yet up to full speed on the offense's intricacies.
But do not mistake that push and pull for a problem between Bryant and Gasol.