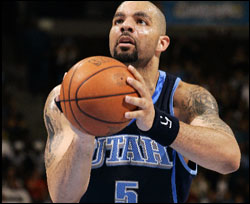 Fans everywhere are going to love Carlos Boozer the free agent this summer. Well, except for Cleveland, where the mention of Boozer's name still can lead locals to punch you just for uttering it.
But that will be different in other cities across the land. It's easy to picture Boozer — one of the game's best power forwards — as a strong inside presence to counter a slasher on the perimeter. Like Dwyane Wade. Or Derrick Rose.
Or Deron Williams? The Jazz are a good team with Boozer so why not try to keep him? Well, money most likely, but the Jazz at least will go through the motions according to the Desert News (via Ben Maller).
But sometime before their starting power forward becomes an unrestricted free agent this offseason, the Jazz do plan on talking with the Carlos Boozer camp about the possibility of his remaining in Utah, general manager Kevin O'Connor said Monday night.

"We've had conversations with everyone's agents throughout the year," O'Connor said, "and I don't think we ever said we'd rule out anything."
Just like Cleveland — but without the venom — there has been a strained relationship between the Jazz and Boozer. After an injury-filled campaign last season it was thought he would walk, but instead he stayed. There were $12.6 million reasons why Boozer picked up his option for this season (reasons he could not find as many of on the open market, and he knew it).
Now things are different. Boozer says he is happy in Salt Lake City. The relationship is mended, and while nobody expects Boozer to give the Jazz a hometown discount, the two sides will at least talk and a contract offer likely will be made. And ignored. But the dance is at least underway.