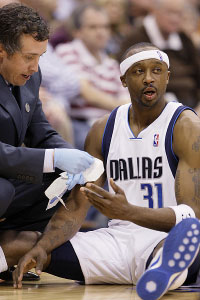 UPDATE 4:55 pm: Jason Terry was at Mavericks' practice Tuesday, complete with mask. Which he hates. Click on this link from Dallasbasketball.com and you can see why.
"If I miss the first shot, it might be coming off," Mavs guard Jason Terry said after Tuesday's practice, during which he wore his new protective mask. "Take a good look now. It might be the last you see of it."
11:14 am: The hottest team in the NBA is about to get better — Jason Terry could return to the Dallas Mavericks on Wednesday against the Bulls. If not then, by the weekend.
That is a fast recovery from surgery to repair a fractured orbital bone — the eye socket — for Terry, whose face had an unfortunate run in with Ronnie Brewer's elbow back on March 4.
"Jet has a track record of missing very few games," Rick Carlisle said. "He's always come back earlier than expected. The injury was serious, but the fracture was such that it was a lower timetable than it could have been. It could have been several weeks."
Terry will be wearing a specially-designed plastic mask to protect his face, going with the Rip Hamilton look that is all the rage in Paris this season.