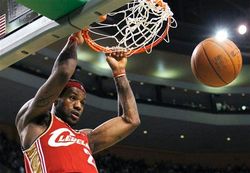 Our weekly NBA rankings, where we wonder where would we would rank Kentucky on this list?
1. Cavaliers (52-15) Is beating the Celtics a statement win anymore? Frankly, the only statement game left for the Cavaliers to win is the one that closes out the NBA Finals. Everything else shouldn't matter.
2. Magic (47-21) We're going to overlook that loss to the Bobcats (second night of a back-to-back). Sort of. It's why you're not number one this week. But overall this team should make Cleveland nervous.
3. Nuggets (45-21) Their coach is missing games due to cancer, their front line gets injured as easily as if it were made of paper mache — and they keep on winning. Six in a row now.
4. Lakers (48-18) Pau Gasol tries to prove he's tough on Amundson, which can actually decrease your toughness quotient.
5. Mavericks (45-22) I can hear the cries: "It's not fair! One loss and you drop all the way from first to fifth?" Yes, when it's the Knicks that beat you.
6. Hawks (42-23) Another team that lost to the Knicks this week. They should have fallen father, but redeemed themselves with a couple wins to follow.
7. Spurs (39-25) No Tony Parker? No problem, two wins. Of course, those were against the Timberwolves and Clippers, which combined should really only count for one win. Let's see how it goes against Orlando.
8. Thunder (41-24) Remember how last year Portland came into the playoffs the hot young team, only to lose in the first round because they found out that playoff hoops is a different animal? The Thunder may learn that lesson this year.
9. Bucks (36-29) Six wins in a row, nine in their last 10. Bogut and Salmons are playing well. Nobody wants this team in the first round. 
10. Jazz (42-24) Still playing very well over the last month or more, but the losses to the Thunder and Bucks (due in part to injuries) drops them down the ladder a little.
11. Suns (41-26) The loss to the Lakers was a reminder they while they are good they are on the second tier in the West.
12. Blazers (41-28) Portland has won four in row, but against the dregs of the league. No style points earned.
13. Bobcats (34-31) If the playoffs started today, Bobcats and Hawks in the first round. Tell me you don't want to watch that one.
14. Celtics (41-24) Three losses in last four. Can the Celtics get out of the first round of the playoffs?
15. Heat (35-32) Jermaine O'Neal is playing better and better as the season wears on. Didn't see that one coming.
16. Rockets (33-31) After a heaping of softies, things get a little tougher this week with Denver, Memphis and the Celtics.
17. Grizzlies (35-32) I still am amazed when I watch Z-Bo play this well game-to-game.
18. Hornets (32-35) Chris Paul is working out before games, doing some shoot around, and looking good. How do you get both him and Collison minutes?
19. Raptors (32-33) Jose Calderon as starter does not fix the defensive woes.
20. Warriors (18-47) Don Nelson is chasing Lenny Wilkins to be the winningest coach in NBA history, yet if he does it with this team does that seem just?
21. Kings (23-44) Just about every other team on the bottom of this list has packed it in for the season mentally. Not the Kings, they bust it every night, still. That is saying something.
22. Pistons (23-43) You'd say this is when the team needs to start rebuilding, but last off-seasons mistakes make that impossible now.
23. Bulls (31-34) New promotion at the United Center — fill out a form in the lobby and you could be chosen to be a starting guard for the Bulls. Injuries have reduced them to this. In fact if you win the contest, you may want to make sure your health insurance is up to date.
24. Knicks (23-43) The beatdown of Dallas would normally move them up higher, if they hadn't looked so bad the rest of the time.
25. Sixers (23-43) Eddie Jordan may well be toast after the season, but the shakeup needs to be bigger than that to really change things.
26. Pacers (21-45) More than any other team this season, I just don't like watching them play basketball.
27. Wizards (21-43) I wanted to believe they could find a way to win more, but seven losses in a row reminds you this league is about talent. And the Wizards have none.
28. Clippers (25-42) They have set themselves up for a fast rebuilding. Which they will blow, because they are the Clippers.
29. Timberwolves (14-53) I'm close to moving them back to 30, they have just quit on the season.
30. Nets (7-59) You keep thinking — hoping — that they get some more wins and not set the record, but they keep blowing leads and losing close ones.