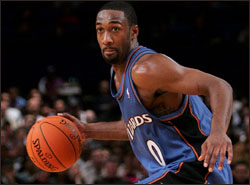 Coming clean is the first step. In an interview with Esquire Magazine — hitting the newsstands next week — Gilbert Arenas comes off as genuinely remorseful for the gun "prank" that led to him being suspended for the remainder of the season.
Associated Press got a hold of the interview:
Arenas says he has "messed up" the legacy of Wizards owner Abe Pollin, who died in November.

"I have a painting of him in my garage. I just walk by it with my head down," Arenas said. "I called Mrs. Pollin and said, 'If Abe was still with us, I would've had to talk to him, so I'm gonna give you the same respect. I want to say sorry to you. I deserve to be punished. I'll do everything it takes to get back your husband's respect."'
Arenas didn't harm Pollin's legacy, he harmed his own. He brought an NBA gun into a locker room, prank or not, over a gambling debt. Bad form. But a genuine, detailed interview where he answers questions and talks honestly is the first step in repairing that legacy. (Tiger Woods, are you taking notes?)
Arenas was all kinds of honest in this interview. He said he has a World War I gun collection and used to have nearly 500 guns in his home, but since he had children he cut that back to four.
Also, he and fellow "prankster" Javaris Crittenton are all good now.
"He goes into the Jacuzzi," Arenas told the magazine. "You know what? I gotta warm my knee up anyway. I go in and sit with him. We're just sitting in there talking. We didn't have no problem. It was just some fun that got out of control."
That's the first of many relationships to be mended.