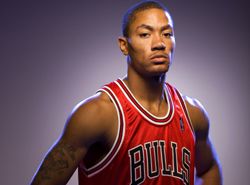 Chicago's Derrick Rose attacked the rim with 55 seconds left in the first quarter, only to find what so many players find when they do that against Orlando — Dwight Howard ready to swat the shot.
Howard and Rose met in mid-air and Rose fell awkwardly, then tried to brace his fall with his left wrist and sprained it, according to the team. He was taken to the locker room did not return to the game (one the Magic won handily).
Afterwards coach Vinny Del Negro said an X-Ray showed a sprain and nothing more, but Rose will undergo an MRI tomorrow to confirm the diagnosis. It is unclear when he will return to the court.
This is not the first painful encounter with Howard Rose has had this season. Last month Howard also knocked Rose down while going for the ball and Rose ended up with a hip bruise.