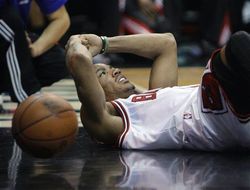 You crash your car into a block wall, the wall wins. Gus Frerotte headbutts a wall to celebrate a touchdown, the wall wins.
Derrick Rose goes barreling down the lane at Dwight Howard and, well, don't expect anyone in Orlando to feel sorry for Rose.
"He went up and he fell," he said. "That's all I remember."

In fact, Howard even sort of blamed Rose for both falls.

"As a big man you never try to hurt anybody coming down the lane," Howard said. "Me and Derrick are cool. I think he's a great player, a great person. You never want to see him get hurt. I talked to him during the All-Star break and I told him, 'If you come down the lane, always come on two feet. That way you'll be on balance. If you come off one, all it takes is somebody's body to hit you the wrong way and you're gonna fall."
Magic Coach Stan Van Gundy didn't even think the play was a foul — clearly he was not watching the play through Rose-colored glasses. It was a foul. Hard foul with the body. No bad intentions, but a clean, hard foul.
It was a reminder that if you come running down the lane against the Magic there is a price to be paid. Rose just seems to be paying that price a lot.