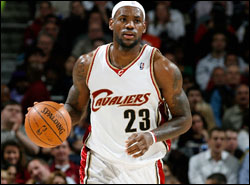 Congratulations Philadelphia — you get to see what a rested LeBron James plays like. Have fun with that.
James had sat out a couple of games with a twisted ankle and an assortment of bumps and bruises that needed some rest. Every NBA player, even one as young and strong as James, could use some rest around this time of the year.
But James has sounded like a kindergartner on a rainy day, with a ton of pent-up energy and wanting to play. Tonight he gets let outside.
The Cavaliers are the showcase game on ABC Sunday afternoon, when they take on struggling Boston.