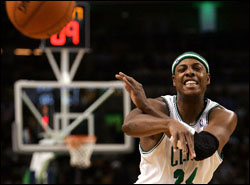 The Celtics just look bad right now. They got blown out by Memphis last night. Just crushed. That comes off a loss to Milwaukee. Oh, and don't forget the loss to New Jersey at the end of last month, that was a disaster.
Boston has gone from contender to "can they get out of the first round?" in just a couple months. And Celtics fans are letting them hear it.
"Yeah it surprises me," said Pierce. "You come out on your home court, get this kind of loss, and get booed by your home court I haven't been on a court where we've been booed … it's been a couple times this year. It's been about five or six years since I've seen that. We're still 17 games over .500. All the fans want is a constant effort night in and night out. I think we gotta be more consistent with that regardless of if we win or lose."
Effort. Passion. A little anger even. Fans want to know that the losing bothers players as much as it bothers them.
Fans saw none of that in the Garden last night. Memphis players ran down the court and got behind the Celtics defense, then with two quick passes (Memphis seriously wasn't forced to put the ball on the floor) the Grizzlies got a layup.
Don't like the boos? Then do better than scoring 12 points in the first quarter against a team not exactly known for shutting their opponents down.
Boston fans are frustrated, they see an aging team, the window closing, And the last rebuilding process was not exactly speedy in Beantown. They want one more run at it. Or at least to see their team get out and run.