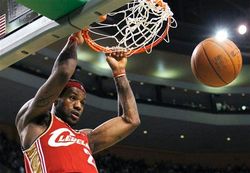 Truly hope is an audacious thing.
That, or Knicks fans are completely delusional. The more I think about it, I'm going to go with door number two here.
CNBC's Darren Rovell explains the latest delusion.
In just a couple of weeks, the New York Knicks have taken deposits on 1,800 new season tickets.

For those keeping score at home, that's the fastest the team has sold this many new season tickets in its storied history.  Considering the team is heading for another losing season and hasn't won a playoff series in a decade, it can be assumed that all this excitement has to do with the anticipation of the free agents the team is going to sign for next season.
It's all about LeBron James. Knicks fans want desperately to believe he will come to the Big Apple, eat thin-crust pizza and save what should be a glory franchise in the league.
People in NYC are willing to make a $500 come bet that it happens. If no LeBron, it will be like someone rolled a craps, and all those supposed new ticket holders will be quickly gone for the board.
The fact is New York needs LeBron more than LeBron needs New York. He is likely to stay in Cleveland, something that becomes almost a certainty if the Cavaliers win a title this year. Maybe the Knicks can lure Dwyane Wade (not all that likely either, people don't leave South Beach willingly) or possibly Chris Bosh. The Knicks could then put a second-tier guy (Carlos Boozer, Joe Johnson) with the big star. Or maybe they don't get what they like and hold out for a bigger, better name in 2011.
That would not be good enough for delusional Knicks fans.