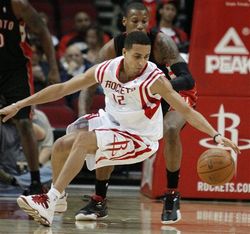 Prediction: Next year, Kevin Martin will be an All-Star.
Next year, those passes into the post that are going to Luis Scola will be going to Yao Ming. That means on the kick-outs Martin should be getting some open looks. And he can bury open looks all night long. So Martin's numbers should be good.
Plus, the continent of China will be voting for him online.
It's hard when watching the Rockets on League Pass, not to start daydreaming of next season just a little. Even Martin feels that way a little, something he told The Sporting News.
Long term, here in Houston, whether we make the playoffs or not, it is very positive. They want me here, they let me know that right away. When you look at it long-term, you look forward to what this team can become in the next few years with all the good young players and with Yao Ming coming back healthy. There is a lot to look forward to.
As for right now, he thinks he's fitting in quite well.
There have been some things about (coach Rick Adelman's) system that have just come natural to me, but there are some twists now, some things are different. You have different personnel, so you have different twists for those guys. When I was playing for him before, I was just a young guy. I was way behind guys like Brad Miller, Mike Bibby, Peja Stojakovic. I got all the wide-open shots back then, because no one was guarding me. Now, I have to adjust to be more of a featured player. It's a different role. But I like it, because it is a system that definitely accentuates what I do best and what I think my strengths are.
The playoffs are a long shot for the Rockets this season — making up four-and-a-half games on Portland at this point is going to take a lot of luck to go with a hot streak. But if it doesn't work out this year, there's always next year.