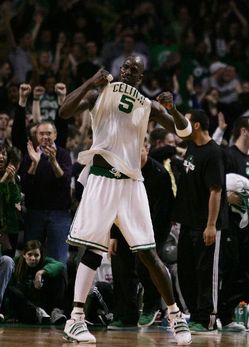 The Celtics game of intensity and intimidation isn't working as well this year as it did two years ago. In 2008, they could bark and the Lakers backed down in the NBA Finals. Now, most teams bark back.
But for six minutes Sunday, it was 2008 again (except Avril Lavigne wasn't on the radio all the time, so in that way this was better).  The Celtics found a young team like the rebuilding Washington Wizards. With them, Kevin Garnett can bark at and still bring players to tears, as was described in the Washington Post.
(Andray) Blatche was noticeably upset and appeared to hold back tears as he explained his encounter with Garnett, which nearly got heated when Garnett approached Blatche and tried to wrestle the ball away from him. Blatche appeared to throw an elbow as Garnett continued to taunt him. Blatche later flung Garnett into a cameraman and sent him to the foul line for two free throws. Garnett smiled as he was helped off the ground. Reserve forward James Singleton said Garnett used his "veteran senses" to needle Blatche and get under his skin.

"I see myself as defending myself as a player. I'm a man, just like they a man. If a man is talking to me this close to my face," Blatche said, moving his hand toward his cheek. "I'm going to say something back. He has to respect me just like I respect him. I just, 'Get up out of my face.' He was this close in my face – I can feel his lips touching my cheek – I wasn't bragging saying 'Ah we winning.' It was 'Back up.' "
Blatche — who had 23 points and since the team was gutted at the trade deadline has started to live up to some of the massive potential he has flashed since he entered the league — missed shots in the last few minutes that he's been making for two weeks. He got a good look at a 10-foot fadeaway to tie the game up with five seconds left that he missed. It happened to all the Wizards, they melted.
For six minutes at least, the Celtics were intimidating and hitting bit shots again.