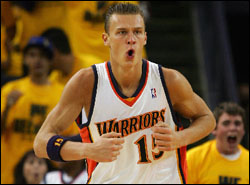 Let us all hope that the doctor who will operate on Andris Biedrins in the coming days has better form with a scalpel than Biedrins does on the free throw line.
According to the twitter account of Tim Kawakami of the San Jose Mercury News, Biedrins is going to have an operation to repair the sports hernia he suffered.
Usually that surgery has about an eight-week recovery time, meaning Biedrins is done for the season.
This injury kept him off the current road trip for Golden State.  Not that Don Nelson cared; he has ripped into Biedrins and questioned his manhood this season. And while it may not be the most tactful way to fire up a guy, Nelson is not wrong that Biedrins has not come close to living up to his contract.
Now it looks like Biedrins will get a chance to rest and can start again next year proving his manhood to his coach. Or not.