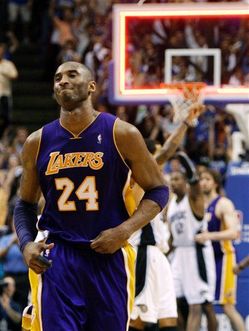 Kobe got his looks at the end. He hit some, he missed the last one, but he got his shots.
Jump shots, that is.
In what was a solid defensive game from both teams, the Magic had a plan — don't let the Lakers get good shots inside, tempt them with open jumpers. It worked. In limited time on the court, Andrew Bynum had just five shots. Pau Gasol showed open frustration at Shannon Brown and others for not getting him passes in the post (that is a season-long frustration for Gasol).
And the Lakers took their jumpers. And missed them.
Kobe was 8 of 23 from the outside (34.8%) and 2 of 5 from three (with one toe-on-the-line two). Derek Fisher was 4 of 11. Ron Artest 1 of 7. Jordan Farmar 0-3. Shannon Brown 2 of 5. As a team the Lakers were 5 of 17 from three.
On the season the Lakers have been good from the midrange — they hit 43.6% of their shots from 10-15 feet (third best in the Association), 40.9% from 16 feet out to the three-point arc (fifth best). They have not been that good from three, they are 19th in the league.
It was not only a good defensive strategy against the Lakers, the Magic executed it well. They have Dwight Howard who can dominate inside, and he got some good help from Brandon Bass. They have long defenders on the perimeter who contested those jumpers (Matt Barnes, for one).
The Lakers are going to see this strategy again, whether or not they see the Magic again. Nobody can just easily match up with that long Lakers front line with Odom and Gasol and Bynum. So teams will pack it in and take their chances with the Lakers shooting jumpers.
And as today showed, that can be a bit hit and miss for Los Angeles.