Ron Artest has really outdone himself this time.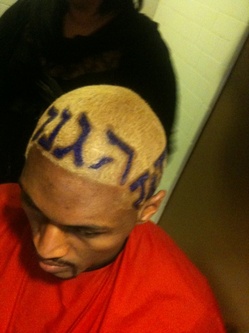 A man known for hair carvings as intense as his defense, has stepped it up for the Finals rematch Sunday. On Saturday afternoon he was fishing around on twitter for how to spell "defense" in Japanese and Hindi. Then he had those two things carved into his hair. That's his twitter photo on the right of the work (enjoy the sneak peak).
Ron Artest's defense has been very good lately, he is fantastic at not letting his man get the ball in a spot that makes him comfortable. Artest has lost weight, it's made him quicker, but he is still plenty strong. In an NBA full of long, sinewy guys, Artest is built like a weakside linebacker. Even down to 250 (and he's not all the way there yet) he is stronger than almost anyone in the league. And he uses that.
Vince Carter likely will get the defensive treatment from Artest in this one. Any way you spell it.