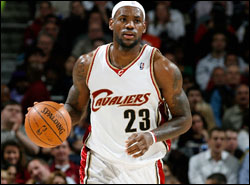 New Yorkers have the equation backwards: New York needs LeBron James more than he needs New York.
Central to the "LeBron will be a Knick" delusion is that he needs to be in New York to be a "Global Icon." That one cannot market oneself properly unless you are near Madison Avenue and pop-up restaurants.
That may be generally true, but Phil de Picciotto of Octagon said at the Sloan Sports Analytics Conference that is not the case with LeBron (as tweeted by CNBC's Darren Rovell).
"He's the one example where it really doesn't matter."
Why should you listen to this guy? Because he's a sports personality marketing guru. He made Mia Hamm the sensation of women's soccer. He made Anna Kournikova rich despite her being a middling tennis player on tour. His company handles Chris Paul and others now. He is on everyone's most influential people in sports list. He is smarter than you.
And he gets that speed of communication is shrinking the world. I can (and do) follow Newcastle United soccer from my home, watch some matches on my computer. The news shows up on my desktop every day (we'll be back in the Premiership next season, baby!). Marketing for a team — or a player like LeBron — works the same way.
In this environment — one that sees walls are broken down and video of NBA games can be viewed from Cleveland to Shanghai — where LeBron James plays is not relevant. His endorsement deals aren't regional, they are international. Nike will market him in India and China regardless of where he plays. People are desperate to reach out to him now, more doors are not going to open because he is in NYC or LA.
Just like on the court, LeBron is the exception to the rule. And that means New York needs him far more than he needs them.