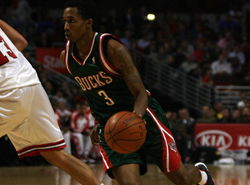 Brandon Jennings is not shooting well. He calls it a slump, it seems to be something more.
But the man is frustrated. Understandably frustrated. And frustrated, angry people say stupid things (just listen to sports talk radio for proof).
Like Jennings saying Wednesday night he doesn't "even know if he wants to shoot the ball," a comment made after another recent poor shooting performance.
Bucks coach Scott Skiles (who had fans wanting him to shoot less back in his playing days) says he gets the frustration, adding Jennings didn't mean it literally.
"We're not fond of that kind of statement," Skiles said before the Bucks played at the Washington Wizards on Friday night. "He's too important to our team and our franchise to have any sort of defeatist-type mind-set right now. And he doesn't, really."

Skiles chalked up Jennings' words to coming in the "heat of the moment" after a game — and to Jennings' being only 20 years old.

Jennings acknowledged his coach's point after the game, and called his own comments a result of "a moment of frustration, not thinking and just letting my anger out." He also said he's "always going to keep shooting."
Jennings is too good to stop shooting. In fact he should do a lot of it this summer with a shooting coach, because he is a good player who would become fearsome with a more consistent jumper.