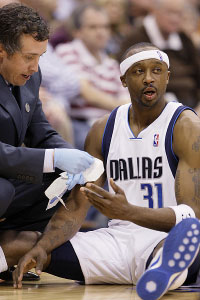 UPDATE 3/5 6:35 pm: Dallas Mavericks have released an official statement saying that the surgery was a success and that Terry is expected to be allowed to resume basketball activities in 10 to 14 days. That will have him back with a few weeks left in the season and well before the start of the playoffs.

3/4 2:35 pm: Terry tells ESPN that he has a fractured orbital bone — the bones that make up the eye socket — which requires surgery. A timetable for his return will be set after the operation.

3/4 2:00 pm: Jason Terry will have surgery tomorrow to repair facial injuries from a Corey Brewer elbow Wednesday night.
Yahoo's Mark Spears first reported the news via twitter, adding that right now there is no timetable for Terry's return.
The incident happened with about 4:30 left in the third quarter of the Mavericks win over Minnesota (the team's ninth win in a row). Brewer got the ball on an inbounds play and held it up with his elbows out. Then Brewer tried to make a sweeping move around Terry and inadvertently decked him with the elbow. Terry dropped to the floor and a was soon taken back to the Dallas locker room.
Just a few minutes later he was back on the court, with cotton in his nose to stop the bleeding. He finished with a game-high 26 points on the night (although was just 2 of 7 from the floor after the incident).
If he is out for an extended period of time, this could be a significant blow to the streaking Mavericks. Terry has returned to his sixth man role but has been closing out games. In the last two weeks, he may have been the hottest Mavericks player.