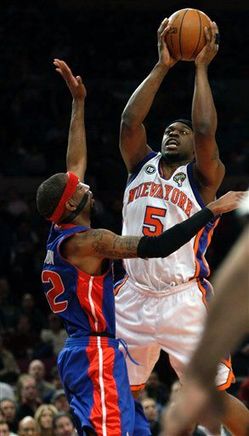 Now comes the time in the Knicks season when the media works to pit Donnie Walsh and Mike D'Antoni against each other, and rather than bother that pair all it does is freak out James Dolan.The whole thing is about as pretty to watch as the Knicks on the court. What we need is a distraction…
Hello Bill Walker.
Up until this week, if you saw Bill Walker's name in an NBA column this season, it was in the sentence "Bill Walker was a meaningless throw in to the Nate Robinson/Eddie House trade."
Then he had two good games — he dropped a team high 21 during the Knicks embarrassing loss to the Cavaliers. So he got the start against Detroit (with Chandler out) and scored 22 on 9 of 13 shooting, bringing an athleticism that coach Mike D'Antoni's system demands but that the Knicks sorely lack.
Two good games for these Knicks? Some fans now expect him to part Central Park Lake and lead the team to the promised land.
Reality is going to be different, but Walker is the kind of piece that could be a role player fit for the Knicks going forward.
There was a time when Walker was talked about as a lottery pick. He was a high school teammate of OJ Mayo, was voted MVP of the prestigious high school ABCD Camp, put on by Adidas to recruit young talent to the brand help showcase the nation's young talent. He put up big numbers at Kansas State.
But he knees betrayed him. Major surgery on both knees, with a third injury coming during his pre-draft workouts with the Golden State Warriors. Walker fell from the lottery to the second round, where the Wizards grabbed him then traded him to the Celtics for cash. The veteran-loaded Celtics want no part of young, athletic players — note the signing of Michael Finley — so they sent him to the D-League on and off.
In New York, D'Antoni's got nothing better to do than give guys who would  otherwise never sniff the court some run. See what they've got. The roster will be overhauled the next two summers, time to see what pieces you might want to keep.
And Walker might be one of those pieces. He's no savior, but hey, he's alright. And that's alright with me.