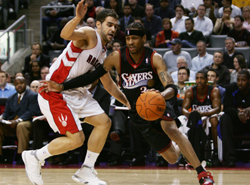 Just days after separation with the Philadelphia 76ers and a week after stepping away from the NBA to be with his sick daughter, Allen Iverson is lucky enough to have another personal struggle added to an already trying week. Iverson's wife, Tawanna, has filed for divorce, citing describing her marriage as "irretrievably broken."
The latest in Iverson's personal troubles are an unfortunate echo of his professional life; AI started the season in Memphis before fading further into irrelevance as a player, only to have more or less the same experience in Philadelphia later in the season. And now, not only does Iverson not have the life of an NBA star to fall back on, but things at home appear to be rougher than ever.
There was a point in Iverson's career where no mountain seemed unclimbable. He was a pint-sized dynamo with an MVP and a Finals appearance to his name, and one of the most prolific scoring guards the league had ever seen. But now we're left wondering whether or not Iverson will ever play another NBA game again, and a man known for his toughness on the court will have to show plenty off of it.