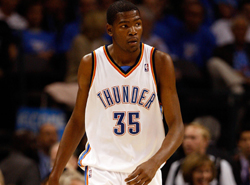 July 1 is the first day the Oklahoma City Thunder can offer to extend the contract of their rising superstar Kevin Durant. They can offer a contract that kicks in after his rookie deal, potentially locking him up for five years beyond the one he has left (plus a potential qualifying offer).
And if they give him a max deal, one of the game's biggest stars will stay in one of the NBA's smallest markets. That's what he told FanHouse.
Yeah, that's what I want to do," Durant said about signing an extension when he first is eligible, which would be after negotiations can start July 1 and until Oct. 31. "I want to be here. I want to be part of this organization."

If the Thunder this summer offers Durant a maximum contract extension, which would be in the neighborhood of $80 million over five years, Durant will reach quickly for a pen.

"If they did offer that, that would be something that nobody could turn down," Durant said. "I would be blessed and privileged and honored. But, at the same time, I've got to keep working. … It would be good (to sign this summer). To know that I can be with a team for a couple (more) years will be cool."
There are only a handful of players in the league who truly deserve a max deal. Players who not only deliver on the court, but fill buildings to see them play, who sell jerseys, who draw free agents in to play with them and sponsors to the building. Durant is entering that elite group.
When you have one of those players in the organization, you do anything and everything to keep them and keep them happy. The hardest part of building a championship team is getting that key piece — finding the Kobe Bryant or Dwyane Wade or Tim Duncan. There simply are not many of those players. When you have one, you hold on tight.
You do not wait a year to sign them because a new Collective Bargaining Agreement in 2011 might well save you a few bucks on this deal. You do not just extend the qualifying offer then see what the market will bear. You do not insult him that way — and it would be an insult.
Durant, even with a max contract, is going to make the Thunder money. He drives the television ratings that lets the franchise charge more for local deals. He drives season ticket sales and renewals. He is the one team sponsors want to be associated with. He sells jerseys. Save money by not offering the role players around him oversized deals. There are times and places to be smart with your money.
But the smart money is offering Durant a max extension on July 1.