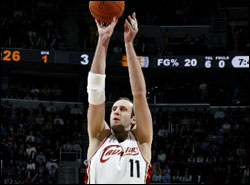 In news about as shocking as Guinness sales will be up on St. Patrick's Day, the agent for Zydrunas Ilgauskas says he wants to return to the Cleveland Cavaliers.
There are a couple reports on twitter from Cavaliers insiders reporting that Big Z's agent, Herb Rudoy, is saying the center wants to return to the Cavaliers and will start negotiating with them on March 22, the first day he can.
This is news, but wholly expected news. Big Z has played every year of his career in Cleveland, his is invested in the community. He wants to help win a title for that team and that city. He was always going back.
It just is official now.