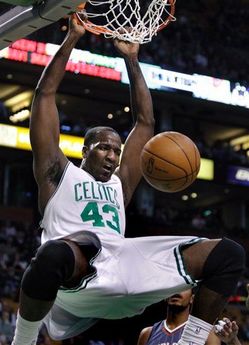 What happened Wednesday, while you were celebrating your new Ghostbusters prints…
Celtics 104 Bobcats 80: Or, "How The Celtics Got Their Groove Back." The Bobcats hung for a half, giving the Celtics all they could handle. Then the Celtics broke it open and never looked back. 35 points total for the Cats in the second half. Pierce came back, 9-13 shooting, 27 points, and that along with Marquis Daniels putting in 2 turnovers in 30 minutes, that's enough if the Bobcats' offense reverts back to primordial ooze (or earlier in the season).
Tyrus Thomas had 15 and 10 with 2 blocked shots, but the Bobcats were forced into nothing but jumpers. That won't get it done.
Cavaliers 111, Nets 92: The Cavaliers just toyed with the Nets, like Itchy does with Scratchy. Except not as entertaining after a while. LeBron had eight assists in the first quarter, including a jumping bounce pass to Anderson Varejao off the high pick-and-roll. The Nets kinda, sorta stayed close, but only because the Cavs were toying with them, not trying to finish them. If you watched all of this one you are a better man than I. Five straight wins for the Cavs.
Knicks 128 Pistons 104: Not that Ben Wallace is the sole defensive impact on the Pistons, but with Wallace out with a knee injury, the Pistons did give up double digits to six of the eight Knicks that played.
Tracy McGrady had another flashback game, reminding us that he can be an impact guy. He shot 50% from the floor, and had 7 rebounds and 8 assists. It's got to be frustrating for McGrady of all people, to know what he's capable of, but not be able to do it consistently. Then again, if Austin Daye is getting time on him, who knows what can happen?
Bucks 100 Wizards 87: Please notice Ersan Ilyasova. I'm begging you. Great offensive range, good on the boards, excellent length, good lateral movement, can contain the pick and roll, can work from the high post, and just an overall blood getter. 19 points, 10 rebounds, 6 assists, 1 steal, 1 block, and 1 turnover in 32 minutes. That's good Sova.
Blatche had another good game, but as is the formula against good defensive squads, the team with less talent suffered. The Wizards' help defense actually wasn't bad, it's just that the Bucks didn't turn it over at all, and they forced 21 .  They created fast breaks, they created confusion, and they got buckets. They are currently the team you don't want on your schedule.
Hawks 112, 76ers 93: Did you really think this was going to turn out any other way?
Magic 117, Warriors 90: Best shot in this one happened before the game even started — during warm ups Dwight Howard hit a left-handed 30 footer while sitting down in the front row next to general manager Otis Smith. Golden State hung around for 18 minutes, until Vince Carter and the rest of the Magic got serious. Orlando tightened up their defense, took away the transition shots (and threes). Not that this game was ever, ever in doubt. Favorite play of the night came in the third quarter, when Howard made the steal then led the break himself (and got the assist).
 
Grizzlies 104 Hornets 100: Sloppy, ugly game. Fun, but nasty. Both teams turned it over, both teams had defensive lapses (especially the Hornets in the early 2nd). In the end, Zach Randolph hit a ridiculous bank three pointer with the shot clock expiring to secure it.
The only thing more unlikely than Z-Bo's three falling was Mike Conley having a night to hang his contract on, with 27 points, 5 steals, and 7 assists. Sure, he clanged two free throws late to give the Hornets a shot at stealing a win at home, but his other drives and floaters were what helped get them there.
O.J. Mayo has lost his jumper completely, and I'm afraid Marcus Thornton may have stolen it.
Mavericks 112: Wolves 109: Corey Brewer is legit. He's having a coming out season for a forgotten team, but he's the next of the Florida crew to prove he can ball. MEanwhile, Jason Kidd took a night off, Dirk Nowitzki had a bad night by his standards.
And the Mavs won. When you win games against plucky teams having an on night with things not going your way? That's a good sign.
Kings 84 Houston 81: The teams shot a combined .710 from the field. Combined. As in, if you add their shooting percentages together. This is bad. As a very gracious and eloquent commenter points out, they shot .350 from the floor if you calculate their combined percentage. This is an abomination.Carl Landry had a good game. Let's all pretend this never happened, lest we use it as the boogeymen in stories for our kids to scare them straight.
Nuggets 119 Thunder 90: The dreaded road SEGABABA (SEcond GAme of a BAck to BAck) for the Thunder, and once the Nuggets foun their rhythm, this was chalk. When Birdman Anderson is hitting jumpers? It's not your night.
The Nuggs can sure defend and score. After they've had their backsides handed to them by two Western Conference contenders and as long as they're at home against a team on a SEGABABA (second game of a back-to-back). Fine win for the Nuggets, not a huge loss for the Thunder, they were due one of these. Just your regular schedule-based beatdown.
Suns 127, Clippers 101: It's the old "chicken or the egg" debate: Is it that the Suns offense is that good or the Clippers defense just that bad? The correct answer is "C" — both.
Trail Blazers, 102, Pacers 79: This game is like a teaching tool for the four factors that decide the outcome of a game. Rule number one is the team that shoots better wins, but in this case Portland shot 43.2 percent and Indiana 43.4 percent. Nearly identical. So on to the other factors, like the fact Portland had 30 free throws on the night to Indiana's 11; Portland had 12 offensive rebounds to Indiana's five; Portland had 9 turnovers to Indiana's 18. It was everything but the shooting that made this a blowout.