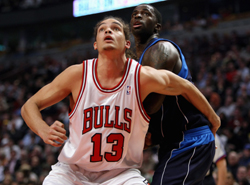 Despite all the advances of modern medicine, there remains but one cure for plantar fasciitis: rest.
That's what Joakim Noah is about to get — the Bulls are shutting him down for three weeks of rest. Noah has been bothered by plantar fasciitis in his left foot for some time now.
Plantar fasciitis is the common cold of the NBA, almost every player gets it at one point or another. The irritation of the thick tissue on the bottom of the foot comes from the overuse of feet doing things like running on a hard surface. Basically, playing basketball. Hard to avoid this one, it's just a matter of severity and pain tolerance.
Better to rest Noah now and have him back healthy for the last couple weeks of the season and the playoffs then for him to fight through it now.