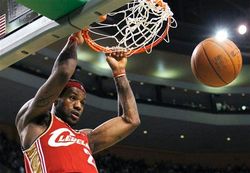 The smart money has always been on LeBron staying in Cleveland.
That's about as exciting as rose bush pruning, but it's the truth. We in the media don't write about it much because speculation of him shaking up the NBA with a move is a lot more fun — and gets a lot more hits. So we write about him coming to the Lakers rumors, even if the reality of that is far fetched. LeBron leaving Cleveland has never been likely.
Al Harrington of the Knicks lays out the conventional wisdom for us.
"A lot of teams would love to have him and the Knicks are one of them," Harrington told The Post in the visiting locker room at Quicken Loans Arena Monday night.

"But if he's as loyal as he says, I would think it's very hard for him to leave, especially because he's home. If it was a different city, maybe not as much a connection, but at the end of the day, he generates every single thing for this whole state. It would be tough for him to make that decision to leave."
Boring. Dead straight truth (plus the Cavs can offer about $30 million more and one extra year compared to any other team), but boring.
Knicks general manager Donnie Walsh said the same thing as Harrington on WFAN recently, he just used fewer words.
"It's very difficult to get a guy to come out of his hometown if he's had success there."
Come on, that's not any fun. At least Tracy McGrady will play our game. Sort of.
McGrady, who considers James a friend, said Monday, "I don't know what that kid is thinking. His own circle doesn't know."
That's better. Now, about him to he Lakers…