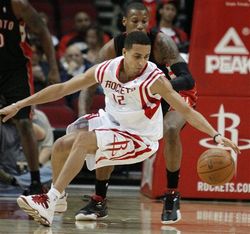 Kevin Martin is tearing it up as a Rocket — in his last two games he has scored 60 points combined on 62 percent shooting and has hit 7 of 10 from beyond the arc. Take that Geoff Petrie.
He also loves his new point guard partner, Aaron Brooks, the guy who Martin said, "is going to be the greatest six foot and under scorer that this game has ever seen." Take that Tyreke Evans (who is over six feet, well over).
Well guess who is coming to Houston tonight? Martin's old running mates from Sacramento that he is so happy without.
Not that he's going to light the fire. SLAM asks good questions, but as smooth as Kevin Martin can hit a jumper, he can spew out the nice, save answers. So here you go.
"It will be emotional but it's not like I'll be out there trying to get them and it's a one-man show. I had great times in Sac. The community took me under their wing and I was very blessed to have a great five years there."

"What we're trying to accomplish here is much bigger than Kevin playing Sacramento. We've got bigger goals and bigger expectations here, so I'm just trying to get back to being a great player and hopefully we have a big month. I'm not worrying about one game – we treat every team the same."

"It's the system and guys around me are giving me the ball in the right places and it seems like I've found my stride since being inserted into the starting lineup first couple games is to see what everything is about and get used to everything. It's been good and hopefully we can continue to build on it."
Well played, Mr. Martin. Well played. Still, this is the game to watch tonight because you know Evans wants to remind Martin who the best point guard he played with this year is (and Brooks isn't near strong enough to stop Evans). And you know his former Kings teammates want to remind him they can ball a little, too. There will be some all-to-rare regular season emotion in this one.