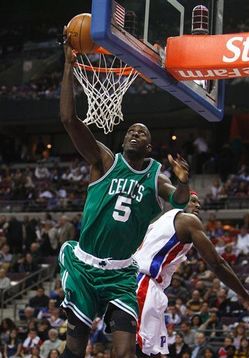 Our game recaps from Tuesday, or what you missed while reading Free Darko….
Celtics 105, Pistons 100: Boston did what they do on defense — Detroit was just 2-18 from three point range and turned the ball over one of every five times down the court. The Celtics also shot the ball much better than the Pistons. Should have been a blowout, but it wasn't.
Detroit may not be a good team but they do one thing very well — crash the offensive glass. Second best team in the league at that, grabbing 31 percent of their missed shots on the season. And the Celtics either were not prepared for it or did not adjust. On this night Detroit grabbed the offensive board on 40 percent of their missed shots and that is the only thing that kept this close. Boston made the plays at the end to hold on, but this game was closer than it should have been. No Celtics fans can feel good after that win.
Heat 110, Warriors 106: Miami decided to play this game at Golden State's pace (99 possessions, one off Golden State's season average, but nine possessions faster than the slow-it-down Heat), and that helped keep it close. The Heat made a little run in the third quarter after they went to a 2/3 zone but the lead melted away with the game's pace. But at the end, it was about execution. Golden State had chances — Anthony Morrow missed a good-look three, Ronny Turiaf had a pass for a game-tying dunk slip right through his hands. The Warriors didn't close out well, the Heat did.
Thunder 113, Kings 107: Nobody really played defense — at least until the Thunder got focused the last five minutes or so — and that made this a fun one to watch. For OKC, this win is a sign of maturity because good teams win games when they don't bring their "A" game sometimes. And the Thunder are becoming a good team. For Sacramento, their moral victory record is now 45-15.
Lakers 122, Pacers 99: We could talk about Ron Artest's defense on Granger or Jordan Farmar's hot hand or DJ Mbenga diving into the front row for a loose ball like it was a playoff game. But here's what really tells you how big a blowout this was: Adam Morrison got 15 minutes — more than  a quarter's worth of burn, and they were not showcasing him for a trade.