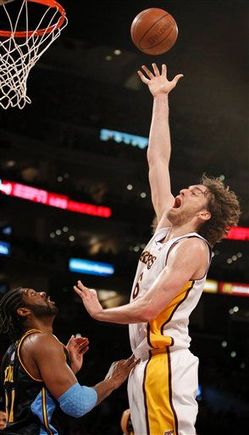 Pau Gasol is one of the more soft-spoken, cerebral players in the NBA. In a league where smack talk is an art form, Gasol is virtually a mime.
Kenyon Martin? He's a talker. Most of his Denver teammates are talkers. And Gasol doesn't like that.
"They talk too much," the normally reserved Gasol said after the game. "Way too much. I don't listen to things that don't make sense. I'm a player that likes to play and that's how I talk, by me playing. Other players can't do that."
Gasol finished with 15 points and 14 rebounds, and as he said did his talking with his play. Often that gets interpreted as soft, because people think he is a 7-footer therefore should play like Shaq, that he needs to be a man of words and brute force. But Gasol's game is subtler than that.
On one sequence, Kenyon Martin patted Gasol on the butt as he said something. Gasol went down court to the Lakers offensive end, got the ball in the post, and then put on a series of well-crafted moves to get his shot and draw the foul on Martin. Gasol is not brute force, he is subtle and clever. That gets lost on those who call him soft, who expect him to be what he is not nor would ever be.
But Gasol gets the job done as well or better than any power forward on the planet right now. That is strength. Don't believe me? Go ask Kenyon Martin today.