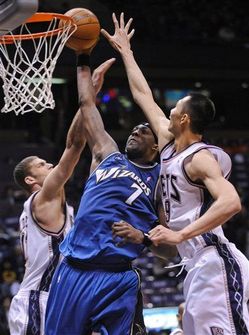 To say that Andray Blatche is on a roll wouldn't be telling the half of it. He's been a woefully inconsistent player during his time in the NBA, but with the benefit of a bit more playing time and a bigger role within the Wizards' offense, his season (and his career) have absolutely taken off.
Blatche has exploded over a two-game stretch in the past. He's wowed over a week. But whereas Andray's previous successes seemed nothing short of transient, his latest tear hardly seems like a fluke. Blatche is playing like a young talent that has finally figured things out, as he's erased the head-scratching facets of his game (the odd jump shots, the turnovers) in favor of sound decision-making and more consistent execution.
He's not a player to build a team around and his defense is still questionable, but Blatche's level of production over the last two weeks has given Wizards fans some legitimate hope in a season that has carried little. Blatche dropped a 36-point, 15-rebound game on the Nets yesterday, which should already have plenty of basketball fans shifting their mindset on Blatche from "what could have been" to "what could be."
Mike Jones (formerly of the Washington Times) elaborates on Blatche's recent tear with some rather emphatic statistics:
Since the All-Star break demolition of the Wizards, 7-Day-Dray is
averaging 26.6 points, 11.7 rebounds, 3.4 assists and 1.4 blocks a
game. And during that stretch, Washington owns a 4-3 record. Believe it
or not, it's only the second time this season the Wizards have played
at such a rate. (They had a 5-3 stretch from Nov. 18 to Dec. 2).
Perhaps the most important note is Jones' final one; Blatche's performances are not only of great worth on an individual level, but they're translating to some real success for the Wizards, despite their woefully limited roster. Washington's "star" is still under suspension, and their second and third best players to start the season have been traded to playoff teams. The players the Wizards received in exchange, Josh Howard, Drew Gooden and Zydrunas Ilgauskas, are off the roster or on the trainer's table.
But the Wizards are, by their standards, rolling. Plenty of the credit for that goes to Flip Saunders, who has done a tremendous job of adjusting to a new roster mid-season, but even more influential has been Blatche, who was something of a forgotten prospect behind all of the turmoil in Washington this season.