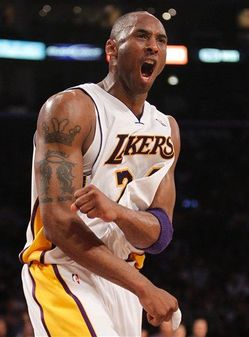 Our weekly NBA rankings, where we would like to think there is a good reason to believe the Mavericks or Magic could beat the Lakers or Cavaliers in a seven-game series. But we're not there yet.
1. Lakers (45-15) They play in cruise control most o the time, but when they focus — like they did for the final 18 minutes against Denver — they remind you why they get the top spot. Loss to Dallas on second night of a back-to-back is forgivable.
2. Cavaliers (46-14) Shaq is out until the playoffs? Any loopholes that can get Big Z back faster?
3. Mavericks (39-21) Fear Brendan Haywood. Fear him. Mavs are undefeated since the trade deadline, beating the Lakers and Hawks this week. Still don't fully believe.
4. Magic (40-20) The Magic should make the Cavaliers nervous, but that is different than beating them
5. Nuggets (39-20) Denver can compete for the Western Conference crown with the Lakers. The question is do they believe that?
6. Hawks (37-21) Want to bet that Michael Woodson doesn't step on to the court next game?
7. Jazz (38-21) I really can't stand the green throwbacks. In large part because I flip past them on League Pass and for a second think the Sonics are still in the league.
8. Thunder (35-23) I have no MVP ballot, but if I did Kevin Durant would be in my top three. With a bullet.
9. Suns (37-24) They've only lost twice since the All-Star Game.
10. Spurs (30-21) For the past couple of weeks, Manu Ginobili has been playing some of the best basketball of his career.
11. Bucks (30-29) Six wins in a row until they traveled to Atlanta. You think they are too highly ranked, but right now they are playing like a playoff team. And the teams below them barely look the part.
12. Bulls (31-28) Derrick Rose is playing like a stud again. If you're a free agent, doesn't this have to be one of the most attractive options out there? Even with Vinny?
13. Blazers (35-27) They won three of four last week, but not exactly against the league elite.
14. Celtics (36-21) You lost to the Nets, be glad you're not lower.
15. Raptors (31-27) No Chris Bosh, three straight losses. But did anybody in Canada even notice last week?
16. Heat (29-31) Miami has lost three in a row. Why? They are just not that great a team.
17. Bobcats (28-29) Focus on the new owner. They lost to the Clippers last week, don't really want to focus on the court.
18. Hornets (31-29) I feel the same way right now about Darren Collison that I do about CP3 — wonder what he could do with better talent around him?
19. Grizzlies (30-29) Tough stretch there for a bit, but it's a matter of perspective: If you had said before the season the Grizzlies would be above .500 and not in the bottom five of this poll, I would have laughed so hard milk came out my nose.
20. Rockets (29-29) Kevin Martin is fitting in well along side Aaron Brooks, but this is still a team in search of a Star.
21. Kings (20-39) If this were just a watchability poll, the Kings would be much higher. Watching Tyreke Evans is fun.
22. Wizards (21-36) Since the trade, Andray Blatche has been a beast. Always had it in him, never really let it out. This is the best stretch of his career
23. Clippers (24-35) My off-season free agent prediction: The Clippers get Rudy Gay by wildly overpaying for him.
24. Sixers (22-36) Lakers last Friday, then Magic, then Hawks, then Celtics. Thanks a lot for this week, Mr. Schedule maker.
25. Pacers (20-39) Well, Canseco Field House is still the best arena in the league. That's a positive.
26. Warriors (17-41) You know Curry is playing well if the team is this bad and he still gets mentioned in rookie of the year discussions.
27 Pistons (21-38) Hey, the Tigers signed Johnny Damon, that will make sports fans in Detroit feel better… nah, it won't. Trust me.
28. Knicks (20-38) The Mike D'Antoni honeymoon with the media may be coming to an end. Yes, Mike, that was actually a honeymoon.
29. Nets (6-53) A one-week reprieve for beating the Celtics, they climb out of the cellar.
30. Timberwolves (14-47) Sorry, but if we give the Nets a break, somebody has to go here.