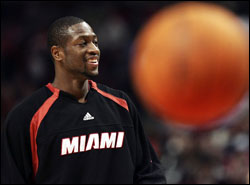 There's no other star on the roster in Miami. He's wanted badly in his home town of Chicago, which has a solid roster in place already. Or he could hook up with LeBron James or Chris Bosh and form a new power wherever they want.
But if you're the Miami Heat owner, you have to believe your star attraction doesn't want to leave. So you tell Ira Winderman everything is fine.
"The bottom line is he has publicly and privately said that this is where he wants to be," (Heat owner Micky) Arison said before Saturday's game against the Milwaukee Bucks. "I believe him. I'm 95 percent sure that he would be here next year. You can never be 100."
That's a pretty high percentage, I'm not even 95 percent sure what I'm going to have for lunch and I've already made a turkey sandwich. Wade is a man who wants to win, will get paid anywhere and has options. But if Arison wants to believe it's 95 percent, who are we to tell someone what to dream about.
The Heat tried — or at least made the effort to look like they tried — to get Wade some help at the trade deadline. What may have really happened is they laid the groundwork for a trade this summer to bring in another name if they can't lure a top free agent to South Beach.
Miami's summer recruiting pitch is pretty good — there may some allure to being young, single, rich and living in South Beach. Of course, the no state income tax is the biggest thing, but maybe there are other attractions. Things that could be of interest to a free agent looking for a new home. Maybe it is not that far fetched to think the Heat could bring help to Wade, rather than Wade going to the help
But the rest of the world sees Wade's decision much closer to a coin flip. Arison ha to believe otherwise.