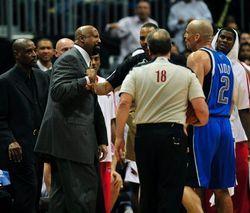 Jason Kidd is a clever a%($hole.
At least his play was, drawing a technical on Atlanta coach Mike Woodson. Smart play. Good strategy. Got a technical free throw (made by Dirk), a point that helped send the game to overtime where his team went on to win.
Still an a*#$hole move.
Check out the video. With 1:37 left in regulation Kidd was bringing the ball up the court, and Hawks coach Mike Woodson had taken a step onto the court to call out his defense. Kidd saw him and made a beeline right at him. Woodson was stepping back but Kidd intentionally ran into Woodson then claimed interference.
Woodson and Kidd jaw, but Woodson gets the technical. ESPN's numbers guy John Hollinger got the quotes.
"I saw him on the court, and we needed to get us a point somehow," said Kidd. "I made the officials make something happen. He's not supposed to be on the floor but for some reason it's a fashion thing for coaches to be out on the floor…I'm surprised it hasn't happened more."

"[The official] said I was on the floor," said Woodson. "I tried to move back and I was moving back and [Kidd] reached over the line and grabbed me."  
It was a veteran, crafty move by Kidd and an a&%$hole one at the same time. It wasn't illegal. He got his team a crucial point at a key moment of the game. Woodson shouldn't have been on the court. I get all that.
Still, a&%$hole move. A clever a&%$hole, however.