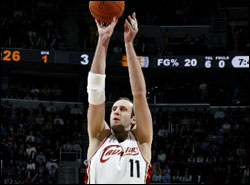 UPDATE 6:42 PM: 
Looks like the gun may have been jumped just a bit. According to David Aldridge, Ilgauskas' agent says that
 the report Ilgauskas has chosen the Cavs is "Absolutely not true!" 

ORIGINAL 6:23 PM: 
According to the twitter account of Brian Windhorst, Michael Reghi of WKNR 850
is reporting
that recently traded center Zydrunas Ilgauskas will re-sign with the Cleveland Cavaliers. 
Ilgauskas was traded to the Wizards along with a first-round pick for Antawn Jamison at the trade deadline, but Ilgauskas was bought out before playing a single possession for the Wizards. 
Many assumed that Ilgauskas would re-sign with the Cavaliers despite reports interest in Ilgauskas from other teams. Ilgauskas was drafted by the Cavaliers in 1996, and has never played for another team. Ilgauskas was the starting center for ever Cavalier team in the "LeBron era" until this season, when he was replaced in the starting lineup by Shaquille O'Neal. Ilgauskas is a fan favorite in Cleveland, and his return will come as welcome news to Cavalier fans. Due to a rule that requires teams to wait at least 30 days before re-signing a traded player, the earlies Ilgauskas can return to the Cavalier lineup would be March 22nd. 
Not everybody is thrilled with Ilgauskas returning to his former team. There were rumors of a league investigation of the move if Ilgauskas returned. Those rumors now appear to be untrue, but several coaches have gone on-record against the move. Recently, Phil Jackson was
vehement in his disapproval
of Ilgauskas' return, calling it a "sham" as well as a "disrespect for the league." 
After dealing Ilgauskas, the Cavaliers were in somewhat of a tricky karma situation. On the one hand, effectively getting Jamison for a late first-round pick is a bit shady from a business perspective. On the other hand, letting go of one of the most beloved figures in the history of the franchise before a potential title run would have been awful from a sentimental perspective. 
The Cavs did what they felt was best for their players and their fanbase, but that certainly doesn't mean everybody has to be happy about the loophole that allowed the Cavaliers to get Ilgauskas back so soon after trading him.