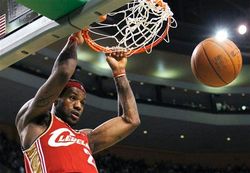 Our game recaps from Thursday, or what you missed while trying to figure out who are the worst parents on LOST…
Cavaliers 108, Celtics 88: Yes Celtics fans, that was as bad as you think. Not the game itself, although that wasn't good for you. But because this game was a vision of your eventual playoff demise.
In the first half, the Cavaliers (whose front office has been obsessed with adding size and will get more when Big Z returns) tried to match up with the long front line of Boston. Didn't work. The Celtics gave the Cavs trouble with penetration — Rondo got into the lane at will. He hit shots at the rim (or high banks off the backboard), and when Cleveland finally started to collapse on him Rondo set up teammates. The Celtics ran and got easy buckets.
Cleveland made its run after Shaq went out and Mike Brown was forced to go small, with an Atlanta Hawks like lineup. Something the Celtics struggled with all season. Plus Brown was forced to play JJ Hickson again, something he never should have stopped doing. Basically, Shaq's sprained thumb forced Brown to be a smart coach. On accident.
Small, athletic bigs are hard for Boston to deal with. Cleveland moved better on defense and started trapping Rondo to take the ball out his hands. The result: Boston went 9 of 41 from the floor in the second half. The small lineup also allowed the Cavaliers to run, something else they should do more of, and they got those easy buckets.
Cleveland is one of only a handful of teams that had the roster depth and versatility to win that game. But what they did in it was provide the blueprint for the rest of the league on how to beat the Celtics come April and May.
Bucks 112, Pacers 110: The Bucks are hot and showed why they are looking like a playoff team — they controlled the tempo, they got offensive boards (30 percent of their missed shots), and they were hitting their jumpers (well, except Brandon Jennings, again). They deserved the win, it wasn't really in doubt.
The Pacers almost stole the win anyway. Down 14 with 5:30 remaining in the game, Indiana got on fire from three, as they do. Brandon Rush hit one, Troy Murphy a couple, even T.J. Ford (who did his the old-fashioned way with the foul). But the Bucks hit their free throws (even Jennings) at the end and held on.
Nuggets 127, Warriors 112: Denver is the far superior team with the superior athletes, when they cared even a little they ran away with it. They jumped out early, were up 19, got bored and gave most of it back, got focused again and won going away. Not much else to it, but it was entertaining. JR Smith draining the three, stealing the inbounds pass then dribbling to the arc and hitting another three. Billups doing whatever he wanted on the way to 37. And it's just fun to watch Steph Curry play. And Ronny Turiaf dunk. Fun show if not that competitive.