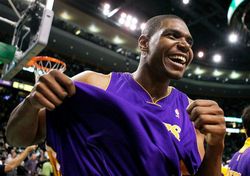 The second the words came out of Andrew Bynum's mouth, you knew this was coming.
"It's hard to play 8 on 5…When I asked one of the officials, how did you call a travel? He said, "I didn't see a travel." "The guy who called it looked me in my eyes and said "I didn't see a travel.

Then in reference to a foul that he thought should have been called on Dirk Nowitzki, Bynum says the referee told him, "I didn't think it was going to mess your shot up."
The word came down today, Bynum will be fined $25,000.
The NBA looks at a player ripping the refs like Apple's Steve Jobs would look at one of his VPs saying in an interview, "You shouldn't buy the iPad tablet yet, wait until we get a second generation and have worked the kinks out." Doesn't matter if it's true or not, you can't have the employees (players) ripping the product (the validity of the games). So you get fined.
Every time I hear a player blame a loss on the refs, I remember my junior high basketball coach when we tried to blame the refs for a loss, "If you had played smarter and not turned the ball over every other time down the court it wouldn't have mattered what the refs did." High school coaches across the land say the same thing.
Bynum, if you don't want the referees to decide a game, play well enough that you control the outcome, not them. It's always on you.