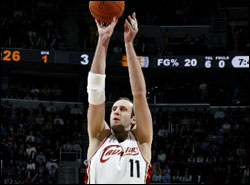 UPDATE 10:32 am: It is now official, according to Cavaliers beat writer Brian Windhorst's twitter account (and he's pretty much right about all things Cleveland). Ilgauskas has been bought out of his contract.
Let the bidding games begin.
12:07 am: Sorry if you bought that Zydrunas Ilgauskas Wizards jersey, but think of it as a collectors item.
To the surprise of absolutely nobody — rural Taiwanese rice farmers knew this was coming — Ilgauskas and the Wizards have agreed to a buyout. The Washington Post's Michael Lee had it first on twitter. The paperwork will be filed tomorrow morning, and the terms are not yet public, but the two sides have reached a deal.
Now comes the interesting part. Or the charade, if you're so inclined. Big Z and his agent are going to listen offers from teams, then make a decision by the end of the weekend on where the unrestricted free agent will play. Dallas will make a bid, as will Denver, and maybe Atlanta. All teams on the edge of contending for a title, with Ilgauskas able to maybe put them over the top.
Then he's going back to Cleveland. Everyone knows it. There didn't need to be some pre-arranged deal. He has spent his whole career in Cleveland, he is active in the community, that is his home. He wants to be there. And it would be a shock if he went anywhere else.