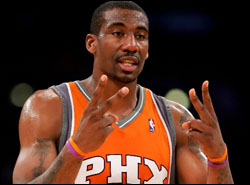 Amar'e Stoudemire's name was in plenty of trade rumors before the deadline. After the dust had settled, Stoudemire ended up remaining a Sun after all. Stoudemire went on the
Dan Patrick Show
to discuss his frame of mind just before the trade deadline, and how he feels about his future in Phoenix. 
When asked if he was disappointed that he wasn't going to play with LeBron James and contend for a title, Stoudemire said the following:
"I don't think there is disappointment in the situation because I am still here with Phoneix and I think there is a great opportunity here to make a solid playoff push and try to take it a step further.  There is really no disappointment, but being in Cleveland playing for a championship is definitely the ultimate goal, but I'm still not upset about the fact of me being here in Phoenix."
Take from that what you will. When asked whether he wanted to stay in Phoenix, Stoudemire said this: 
"Well a little bit of both.  I am still kind of halfway in the midpoint right now.  I cant really make too much of a decision right now because we are doing so well or we may make the playoffs here and we may go a step further.  I can't really make a decision based upon right now, but I figure to give me some time to see if I can figure it out and make a solid decision."
It sounds like Amar'e isn't all that unhappy in Phoenix, but will definitely listen to phone calls from other teams this summer. Of all the big free agents in 2010, Amare's decision may the most difficult to predict.