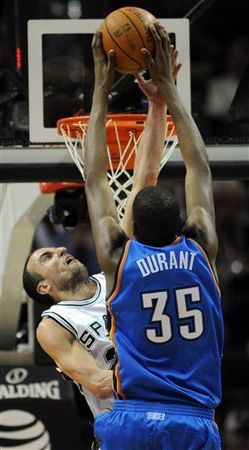 Figures it would be the Spurs. If one team is going to be coolly efficient at their job while sucking some fun out of the game, it's San Antonio.
The Spurs ended Kevin Durant's 25 point a game scoring streak at 29 games. The last guy to do more than that was named Jordan with the Bulls in 1986-87 (he had 40)
The Spurs did what they do. San Antonio focused on taking the opposition's best player out in the fourth quarter — Durant was 0-4 from the floor in the fourth quarter. He was just 7 of 19 overall, although he did score 21 points and pitch in 12 rebounds and a couple blocked shots
The most spectacular stop was Manu Ginobili blocking a Durant dunk attempt. Yes, that Manu Ginobili. The Argentinean with the bald spot. Killer of bats. Don't ever underestimate his athleticism, as Durant was reminded when he drove on a fast break right around George Hill only to have Ginobili swoop in and cleanly block it.
The Spurs have not been the Spurs everyone feared five years ago this season, but they have not forgotten how to play team defense. And for one night they can turn it back on and be good enough to do things like slow down Kevin Durant.