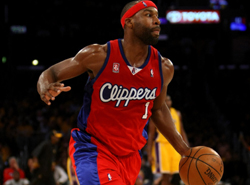 Clippers owner Donald Sterling does care about winning. He does. Not more than he cares about profit, but he does care about winning.
And like any good head of a company, it's his job to motivate his employees. Push their buttons to get them to do their best. Like this exchange heard between Sterling and Baron Davis on the court before the Clippers win over the Pistons Wednesday, as overheard by Vincent Bonsignore of the Los Angeles Daily News. (Via Clipperblog)
"Baron, I need you to make sure it comes together," Sterling told him, in no uncertain terms.

"Yes sir. And I believe it will," Davis reiterated.

"Look, I'm a man who makes things happen, and I need you to make this happen," Sterling said… "You know what would make me smile?" Sterling said. "You scoring 20 points tonight. That would make me smile."

"Then I'll make you smile," Davis promised.

"The thing is, I don't need you taking 60 shots to do it," Sterling warned.
For the record, Davis had 10 points of 4 of 10 shooting, but he added seven assists and the Clippers won so everybody went home happy. Thanks to Donald Sterling and his master motivating techniques.